Conference Ticket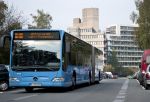 All participants will receive a ticket for public transport with their conference documents. This ticket will enable you to travel on all busses and suspension line within Wuppertal from Monday to Friday.

Please take your ticket with you whenever using public transport!

Note: Students of the Bergische University Wuppertal will not receive a conference ticket.
Picture: WSW mobil GmbH